Table Bands are made to wind proof your table cloth while picnicing or camping. They are shock cord with small hooks to fit on any picnic or camping table...preventing your table cloth and settings from blowing away. Just stretch them over the ends of the table. They replace table cloth clips which work on few tables. Table bands work on all tables, including the thick concrete and wood tables found in the national and state parks.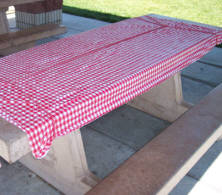 Doubled up - used lengthwise
Fold small for storage
Fit anywhere in your camping or picnic supplies
J A N Products
4600 E. Sunset RD. #253
Henderson, NV 89014
Our Table Bands are not just elastic loops like others. Those will not work on a table with a bear box attached to table. Our bands can be positioned anywhere on table.
able cloth clips slip
Table cloth clips don't fit
Table cloth clips bend
Table cloth clips get lost