Pulsed Coolant Pump Description
JAN Products
Henderson, NV 89015
Ideal for desktop machining and band saw
Coolant is on for only seconds
Eliminates the need for coolant guards and splash trays

Fully adjustable pulse on and time between pulses

No need for check valves and filters
Spray nozzle mounts anywhere on machine with magnet

Complete system- Pump, tubing, mag base nozzle, 12v adaptor included.
This is a centrifugal pump and is NOT submersible







This page last modified on Monday, June 23, 2014
FAQ
Why buy this pump system?
The system is designed for metal cutting machines without coolant system. Machines like band saws and desktop CNC are ideal.
What are the advantages?
Small volume of coolant is used, so coolant catch trays not necessary. Low voltage operation. Micro controller operation. No misting or compressed air needed.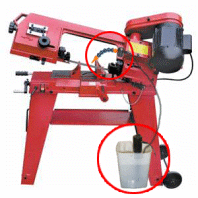 Pump shown used on band saw
google-site-verification: googlef28f2e80e46a9b1d.html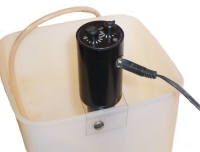 Shown mounted with included polycarbonate hanging bracket